Skype Lessons
Learn accordion through Skype from the comfort of your home.
Have questions before you sign up?
Check out info further down this page for how lessons work. Or send me any questions or request a phone conversation via this form.
Ready to sign up for the upcoming session?
Click here for current plans and pricing.
Want to try out just one lesson to get a feel?
"I can't reccomend RebelReed highly enough. I get excellent exercises and resources to help me reach my goals."
- LORRETTA FROM WASHINGTON
Accordion lessons with teacher Dallas Vietty
Hi! I'm Dallas Vietty
I'm a full time professional accordion player and teacher living in Philadelphia, PA. I play a few different styles of music, you can check out my performer website here.
I've been teaching accordion lessons through Skype since 2013.
I love working with all levels of students and all types of musical interest. My students range from just for fun hobbyists to dedicated performers.
Here's some things that I do that help my Skype students maximize their growth:
"I've had many teachers over the years and Dallas rivals the best. Always fun and encouraging, Dallas makes me want to be a better accordionist"
- ISAAC FROM PHILADELPHIA
Our lessons span three month segments. This lets us set a destination and create a clear path of lessons to get there.

All of our Skype (video chat) lessons are recorded and posted privately to YouTube so you can rewatch, review and remind.

You get automatic reminders 24 hours before your lesson, so your busy schedule never gets in the way of your passion to learn.

You can take one of my online group classes to learn music theory (chords, scales, harmony, melody).
If you're ready to start, scroll down and find the plan and pricing package that are best for you.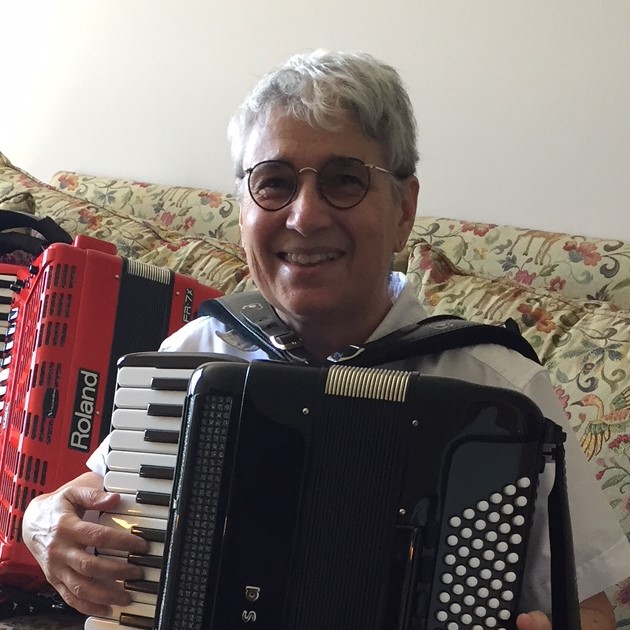 Dallas is a consummate performer and teacher. He knows his stuff, is incredibly musical and will quickly tune-in to your wants and needs. A+++ Highly Recommend
Does learning accordion through Skype actually work?
Yes! You can learn accordion through Skype (video chat) from your house, office, or wherever you've got a decent internet connection.
Check out the testimonial quotes on this page for staisfied students.
What do I need?
Skype lessons are simple! After you sign up we will email and set up our dates and a plan for the three months of lessons.
The other things you'll need for Skype (video chat) lessons with me are:
an accordion : p

a device that connects to the internet: computer/laptop, tablet, smartphone (although the screen will be very small

decent speed internet connection

for best results you should be close to your wireless router or directly plugged in via ethernet cable

Download the app Zoom Meetings on your device. This is the app I use these days instead of Skype. It's free, it works much better.
How much does it cost?
I offer two packages:
6 Lessons for $380 (or three payments of $126.66)
9 Lessons for $515 (or three payments of $171.66)
Scroll down for more info and to sign up.
Discounts are avilable for college age students. Just contact me through this form to request.
Yes! I can imagine that committing to 3 months of lessons can be risky and intimidating if you aren't already familiar with me and my teaching style.
New students can try out a one off lesson which counts toward your first lesson package.
You'll still pay for that one lesson ($65), but if you decide to sign up for a lesson package afterward, I'll discount that amount from the package price.
To setup your first one lesson just send me a message through the contact form here.
Can I take just one lesson?
There are two situations I offer one off lessons for:
1. New students who want to try out lessons with me before they commit to a package. See the column here 'Can I try out lessons?'
2. For professional/gigging musicians I will offer a lesson here or there. To inquire about that contact me here.
When do you offer lessons?
I teach Mon-Fri from 10a-10p Eastern Time. Returning students have scheduling priority, otherwise if the day and time is open, it's yours.
I teach in 3 month sessions:
Winter (Jan-Mar)
Spring (Apr-June)
Summer (July-Sept)
Fall (Oct-Dec)
"Taking online lessons with Dallas Vietty has been very helpful in learning to play the accordion. At almost 67 years old, and having no music background, taking online lessons with Dallas has been extremely helpful to improving on my playing ability. I highly recommend taking lessons with Dallas."
This Session Fall 2019
Fall Session: October 7th to December 20th
Lesson Details
6 or 9 private one hour lessons

Take lessons through video chat app or in person in Philadelphia

Automatic lesson reminder

Bonus group chat

Flexible payment available

Customized curriculum
Unique information about the current session:
The Summer Session calendar is flexible for your summer holiday plans. I'll be teaching 9 weeks total you can take 6 or 9 lessons any time in those weeks.
Fall Session Calendar:
Weeks 1, 2, 3: 10/7 to 10/11, 10/14 to 10/18, 10/21 to 10/25
Week off: 10/28 to 11/1
Week 4, 5, 6: 11/4 to 11/8, 11/11 to 11/15, 11/18 to 11/22
Week off: 11/25 to 11/29
Week 7, 8, 9: 12/2 to 12/6, 12/9 to 12/13, 12/16 to 12/20
Winter Session starts January 6th 2020
"Skype lessons through RebelReed work great - it's in person and personal."
$380.00 OR 3 Payments of $126.66
$515.00 OR 3 Payments of $171.66
WHAT'S INCLUDED
- 6 or 9 one hour lessons
- Video recordings of lessons
- Free entry to Theory and Musicianship online group classes
CANCELLATION & RESCHEDULING POLICY
All lessons must be taken during the time period of the session they were purchased for. No lessons will carry over to the next session.
Rescheduling of lessons is permitted in extreme situations. 24 hours notice is required for lesson rescheduling. In cases of extreme illness or urgencies, the 24 hour notice rule may be waived at the discretion of the teacher.
Lessons which the student cannot attend and for which the student fails to notify 24 hours ahead of time will be forfeit, no credit nor refund will be given.
"Dallas breaks down the complex ideas and techniques of Gypsy jazz to make this exciting music accessible to the ordinary player. His teaching style, a combination of patience and enthusiasm, is effective and a lot of fun."
- CRAIG FROM MASSACHUSETTES
"Dallas has helped me think about how to phrase each measure of music to make it sound more musical. He tries to help me get the most out of what I want in the learning experience and his enthusiasm and encouragement makes lessons fun!"
- GRACE FROM PHILADELPHIA