Here are 5 great Gypsy Jazz recordings that I own and have a listened a ton to. I picked 5 of my absolute favorites  by 5 of my favorite accordionists. The role of accordion in Gypsy Jazz is not as prominent as violin, but these 5 players exemplify the style and role of the accordion.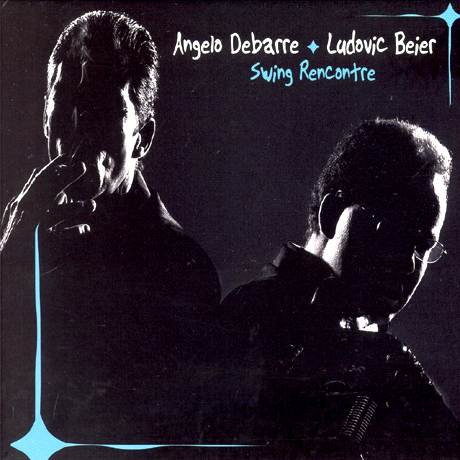 1. Swing Recontre – Ludovic Beier & Angelo Debarre
Ludovic Beier has got to be THE most prolific Gypsy Jazz accordionist. He performs regularly around the world and has already put out tons of recordings with MAJOR guitar players in the genre of Gypsy Jazz.
His technical virtuosity seems limitless, and his inventive groove and rhythmic interpolations are always artful and interesting. If you don't know his work already, you will be blown away.
2. Source Manouche – Marcel Loeffler
Marcel is a hugely lyrical player, who swings his ass off.  Mythically adding to his musicianship are the facts that he is blind and he is a member of the Roma community. But aside from that gossip, his lines are amazing bebop-manouche poems, and his articulation of those jazz lines with accents and ghost notes is so swinging and hip. His band and this recording has that amazing huge sound I found on Bireli's records.
3. Mon Pote Le Gitan – Laudat & Dubanton
This is a great more mellow record by this relatively unknown (in the US at least) Parisian pair. Jean Claude Laudat is a fantastic accordionist, and you can even hear him playing Django's famous Minor Swing solo on accordion!
4. Manouche Partie – Jo Privat
Jo Privat must be the grandfather of the Gypsy Jazz accordion genre.  This record is a CLASSIC. A must own. Hours and hours of replay. Rythmes Gitans is a classic really cool tune. And this has what many consider to be the seminal recording of Valse des Niglos.
5. Gipsy Project – Bireli Lagrene, special guest Richard Galliano
I added this to the list just so I could have Richard Galliano listed. He isn't all over the record, but I think Galliano's solo on Daphne is the SWINGINGEST thing ever played on accordion. Especially the final chorus where he plays in block chords. Bireli is the guitar giant of our time, and Galliano is the accordion giant. This is a phenomenal record, and everyone should own it.
---
Dallas Vietty is a Philadelphia based jazz accordionist and accordion educator. As a musician he performs around the United States. His past projects have allowed him to perform the some of the top music venues: Jazz at Lincoln Center NYC, Iridium NYC, Kimmel Center Philadelphia, Catalina's Los Angeles to name a few. As an educator Dallas is a pioneer in online accordion education through his learning website rebelreed.com. He is also one of the most in demand workshop and music camp instructors for accordion.